My first year anniversary is coming and you know what they say about the first year of marriage, lol, thank God we have made it past the first year. We made a pact when we were about to get married that we would always take time to celebrate the "small" victories in our lives no matter what.
We decided to look into going on a vacation in Nigeria and it was very interesting to find out that there were a lot of places you can go on vacation here in Nigeria. It came at a time when we wanted to change the look of our home. I had already gone to the Sandtex Experience Centre along with my painter and picked out everything I was going to need, so it was a good time to go on a vacation.
During my research, I found out that people even come from different parts of the world to visit these places. So I decided to share with you a list of vacation spots in Nigeria that you can visit too.
Zenababs Half Moon Resort, Ilesha, Osun State
Zenababs half moon resort, located in the heart of Ijesha land, is one-of-a-kind and is spread over a large expanse of Osun State's colossal water bodies and dense forest. It has a serene and calm environment. It also offers low-cost meals and budget rooms. This resort is perfect for a family vacation with activities for everybody including a children's playing ground, basketball and volleyball courts, tennis courts, a large swimming pool, wildlife park with exotic birds and other species.
The Rayfield Holiday Resort, Jos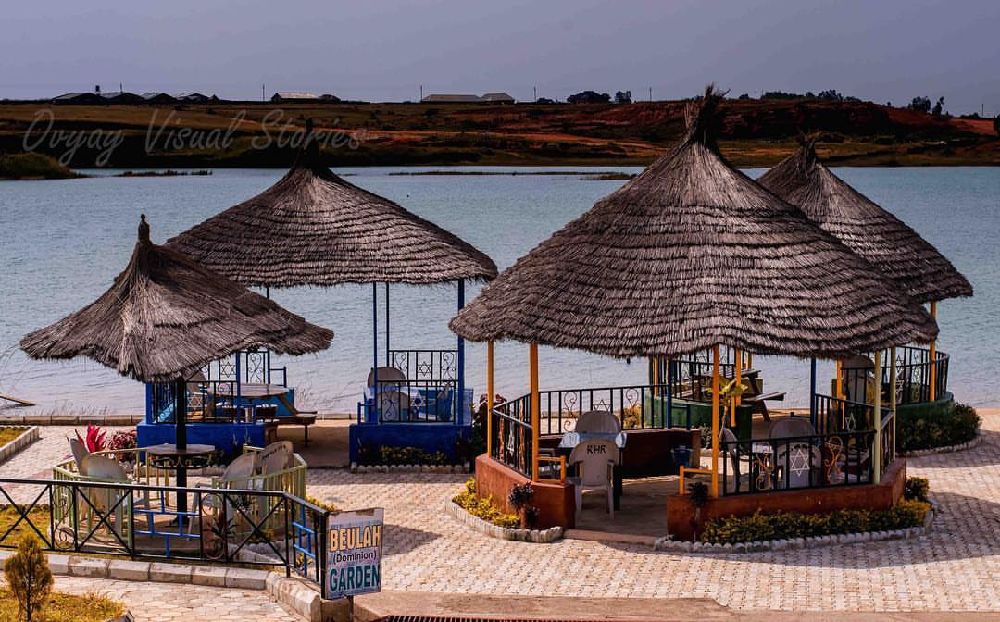 The Rayfield Holiday Resort in Jos is a resort comprising of a theatre, a children's recreational park, a boating anchor point by the bank of the biggest of the lakes, a restaurant, a shopping centre and much more. It is perfect for when you want to take a vacation or go on your honeymoon.
Abraka Turf and Country Club, Abraka, Delta State
Located in the exotic region of Nigeria's Delta, Abraka Turf and Country Club, the resort includes perfect villas, chalets, and caters to a high-end clientele that includes families, vacation seekers, campers, as well as corporate groups. Abraka Turf and Country Club come fully equipped with state of the art facilities and the outdoor activities include golf, tennis, canoeing, kayaking, polo, horseback riding, fishing and deep river diving.
Whispering Palms Resort, Iworo Badagry
Whispering Palms Resort is surrounded by beautiful green scenery that enhances the aesthetic feel of the resort. Whispering Palm Hotel is a good choice for families and lovers on vacation. The resort has different rooms for different budgets with a swimming pool, a gym, basketball court and other facilities. You can even hold your company retreat at the resort with a round-the-clock power supply and ample parking space.
Calabar Harbour Resort and Spa, Cross River State
Calabar Harbour Resort is one of the top luxury hotels in Calabar, Cross River, offering quality accommodation and exclusive facilities. The resort features free Wi-Fi, a swimming pool, fully equipped gym, spa and sauna which are readily available for all guests.
La Campagne Tropicana Beach Resort Ibeju-Lekki
La Campagne Tropicana Beach Resort is focused on presenting African hospitality and culture in a cosmopolitan manner is ideal for honeymoons, corporate retreats and conferences, family getaways, destination proposals and weddings. The resort boasts of a clean beach, lagoon and mangrove forest that provide visitors with the opportunity to observe, at close quarters, a wide variety of tropical Flora and fauna that include snake trees, mangroves, various species of epiphytes, monkeys, squirrels, bats, and various species of birds such as kingfishers, Seahawks, egrets and ducks.
Obudu Mountain Resort, Cross River
Looking for a place to take a vacation right here in Nigeria? Why not check out Obudu Mountain Resort, formerly known as Obudu Cattle Ranch. It is one of the most beautiful and pleasant tourist centres in Nigeria, located on the Obudu Plateau.
Le Meridien Ibom Golf Resort, Akwa Ibom State
Take a trip to LE MÉRIDIEN IBOM HOTEL & GOLF RESORT in AKWA IBOM. The resort is known for its outstanding and world-class golf course with fantastic lodging, dining, and service, perfect for anyone looking to chill.
Kajuru Castle, Kaduna
Check out the Kajuru Castle, an exclusive and luxurious total getaway built in an early medieval style at Kajuru village located in Kaduna. The villa is designed with bedrooms modelled after dungeons and several towers with crenellated walls and it includes a guest tower with 4 rooms and the main building with a knights' hall and a master suite. This is definitely one place to check out.
After doing all my research, I realised that there are a lot of places within Nigeria to go on vacations, you don't necessarily need to break the bank to have fun. If you have visited any of these places, share your experiences with us.
Source: HotelsNg, TripAdvisor